Hello Everyone,

I'd like to introduce our newest forced induction offering, a complete turbo charger package with factory like integration a "complete layout".
Vastly different from the simplified systems out there that compromise in order to simplify, we wanted a layout like the factory would design it.
A few of you at NSXPO this year got to see detailed technical data and pictures of assembly.

First of all the simple spec's & pricing for those not bother by reading why and how it works:

Complete system comprising out of:
- Full equal length headers with V band connectors - Integrated twin scroll up pipe with special wastegate extension (internal diffuser to aid spool up) - Down pipe and muffler layout including screamer pipe (part silenced) specifically design and test for Optimal back-pressure
- All 304 Stainless, and 5000 series aluminium
- Customized turbo charger setup based off a Garret journal bearing core with housings matched to the high compression V6 of the NSX.
- Tial External waste gate integrated fully in the exhaust system.
- Custom water to air intercooler (optionally with upgrade diffuser end tanks)
- Waterpump for intercooler
- Custom front mount aluminum heat exchanger for inter cooler coolant
- Custom BOV valve.
- Full installation hardware, piping and ancillary kit

PRICING: €9995 ex shipping
Install possible: Ask for a complete build quote.
Delivery: PM/Email me your zip code for a quote.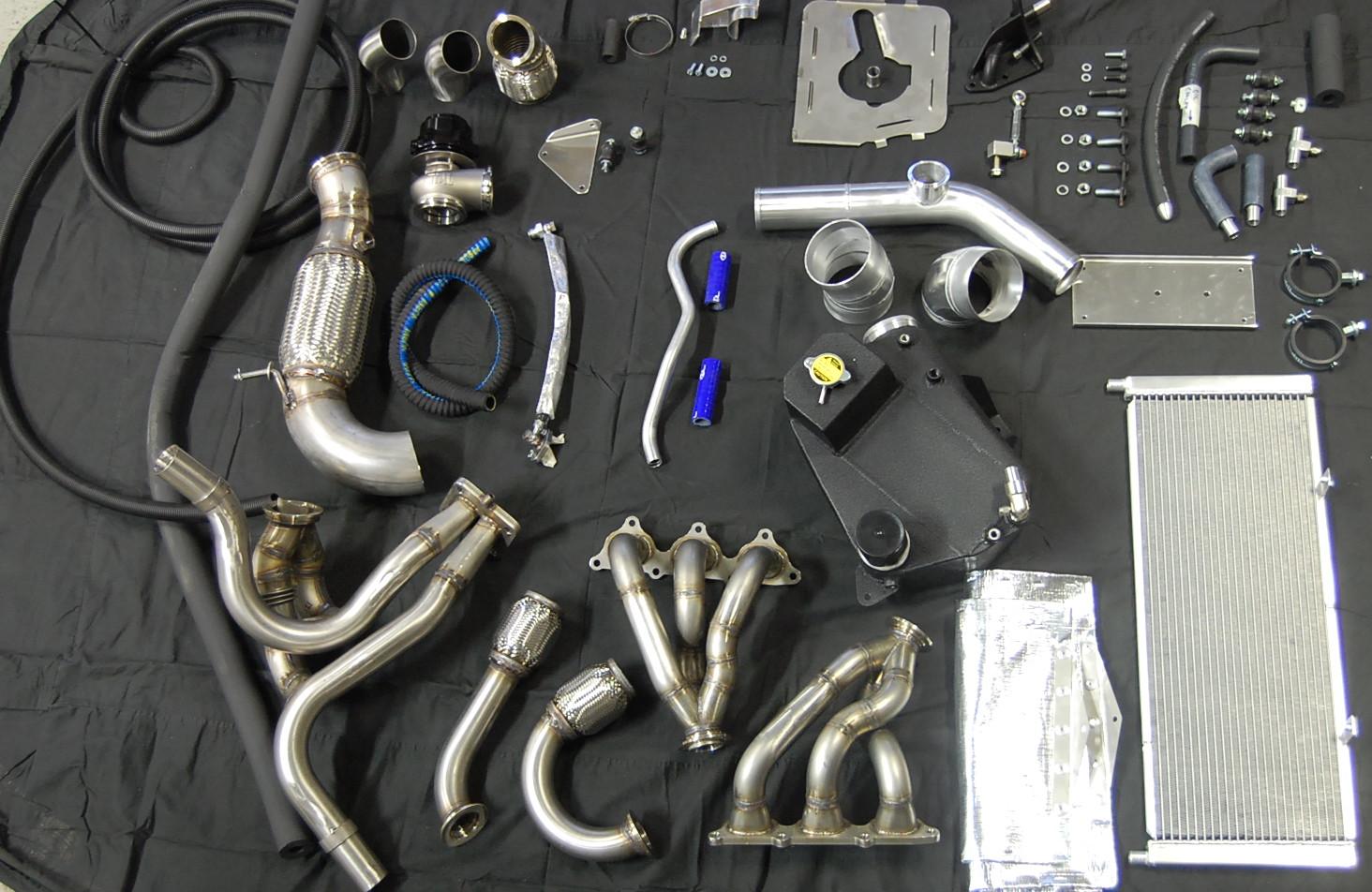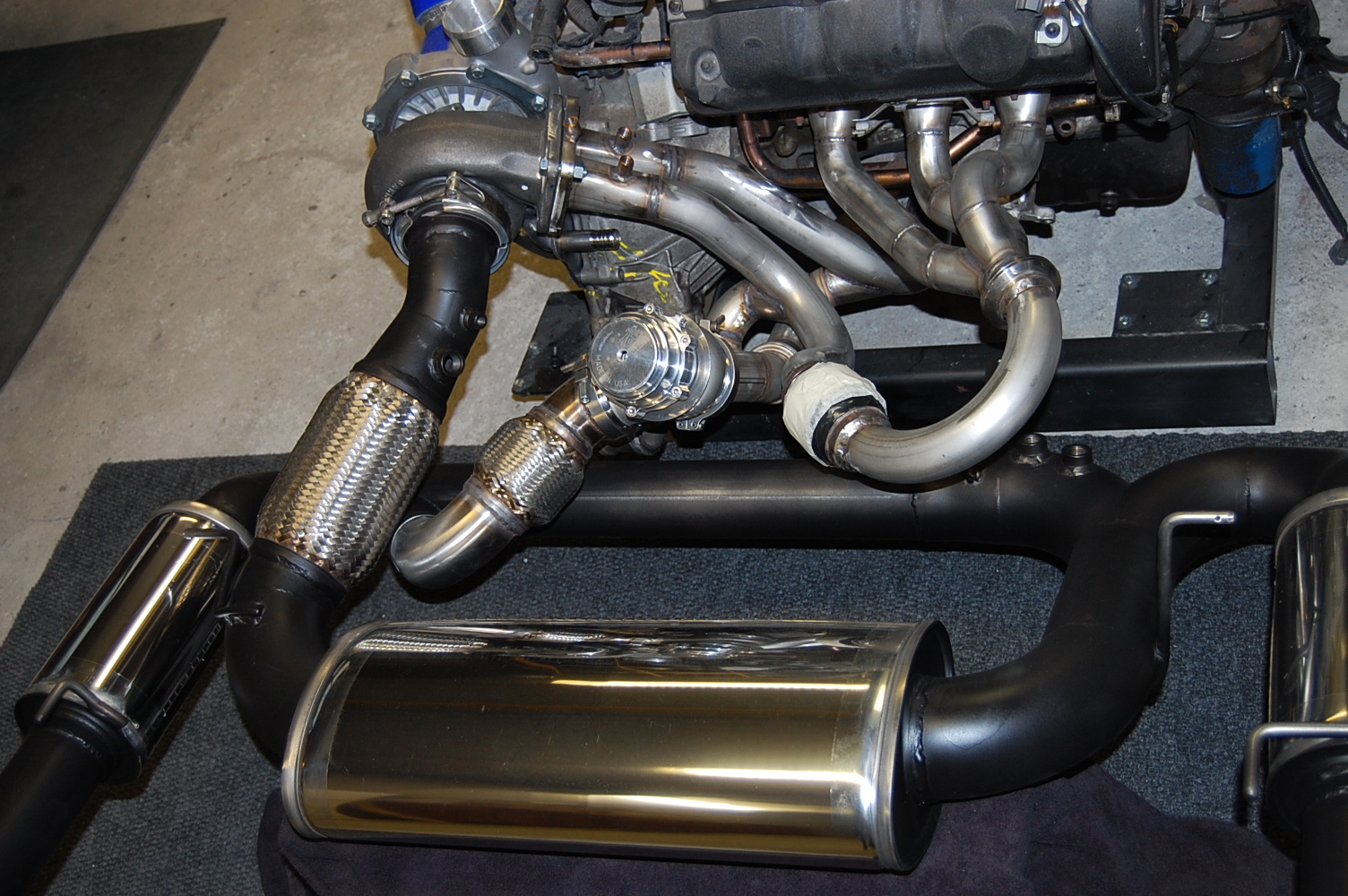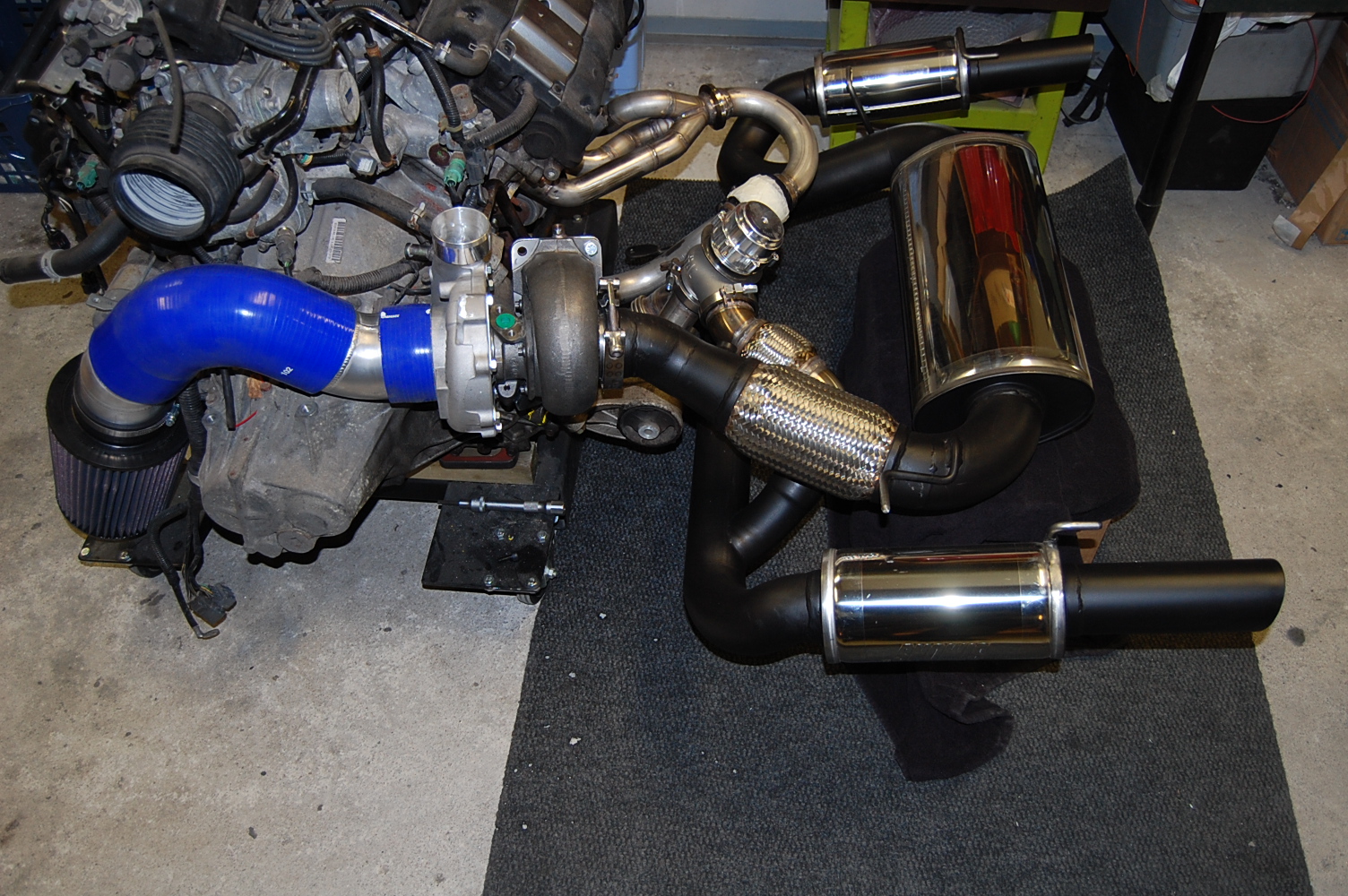 Detailed information:
Now let's get in to some serious details how this kit was designed tested and refined.
The goal from the out set was a linear spooling responsive setup with out compromising exhaust layout for the sake of budget cuts (for example using NA mufflers or headers)
A simple yet comprehensive setup with OE like solutions instead.

How was it designed and tested?
Our friends at AMW in Finland started the project based of there WRC knowledge they fabricate and setup WRC & Hill Climb components and cars.
Unique combination of skills and know-how
- High end factory racing know-how
- Extensive custom fabrication abilities (Stamping, Pipe deforming presses, Hydro forming and specialist welding)
- On site dyno
- Advanced metering and data logging (flow, back pressure, temperature. test NSX with a myriad of extra pressure and temperature sensors trough out the exhaust and inter-cooling whilst on Dyno)

Kit was continuously developed for a few years, and together with our local clients two cars where build, three engine setups, 4 kits.
These have been tested in track day racing, top speed one mile racing and cross European tours.

Heavily tested over thousands of miles in 2 chassis on 3 engine layouts (1 bone stock 3.0L, 2 build 3.0L's)
4 prototype kits builds to date.

Now getting in to details how through this setup has been tested, not only have the test cars driven 3000 mile road trips with zero issues.
The setup has been tested in temperature extremes of 5-100 Fahrenheit

Each component was flow tested, for example airflow through the intercooler cores and how it can be diffused for thermal efficiency
Core's are supplied by a WRC/WTCC factory supplier.
Exhausts flow tested and pressure tested fully live on dyno, measuring back pressure and pre-turbine pressures for efficiency.

Exhaust side
Unique F1 style techniques, headers are stepped in design and feature custom die-pressed runners contouring from oval port shape to round tubing.
Exactly as factory racing divisions would do, all are TIG welded and the alloys are match for there heat and stress properties.

Fully equal-length and v-band flanged.
That means there are basically 6 velocity stacks one for each exhaust port speeding up gasses.
They then collect in a up pipe to the turbine which matches the gasses, the flange to the twin-scroll turbine is also a die-pressed to contour to the turbine entry.

Mean while, there is a flow match wastegate which features a internal diffuser to separate the cylinder banks fully.
This diffusers keeps the banks truly equal and non cross-breathing (increasing spool up)

The turbo sends the exhaust gasses through a flow match exhaust system design for optimal backpressure.
Also integrating the wastegate scream-pipe in ether a bypass separate layout or integrated (OE Like) for a subtile approach.

Further refinements that aren't visible,
The alloys in the exhaust system are purpose matched
Including special 309S extra heat resistant stainless in the headers to improve the heat transfer.

The turbine has billet V-Band clamps for easy of maintenance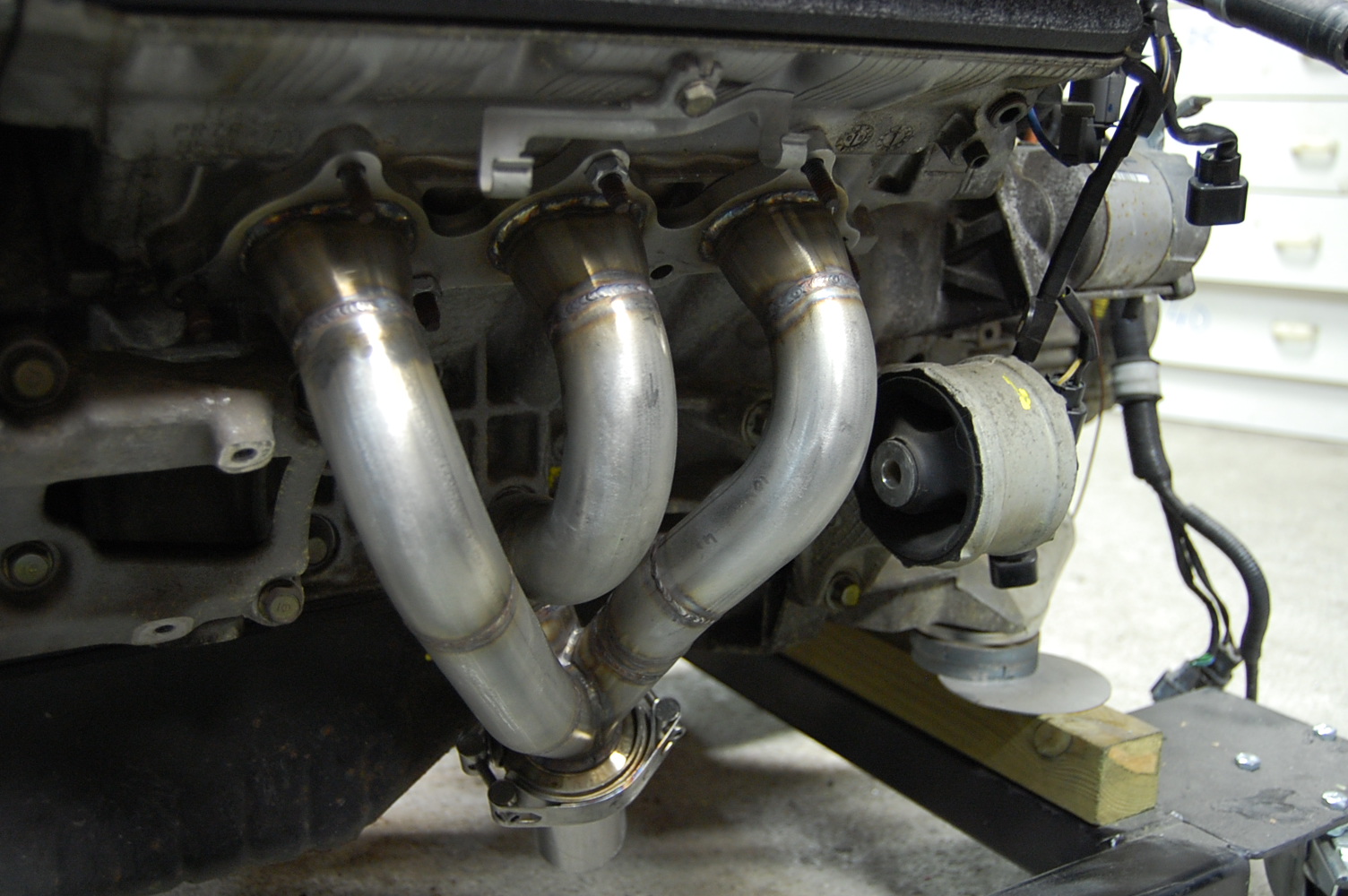 Intake side
This is where the fully flowed approach continues,
Compressed air leaving the turbine flows directly in to the air to water intercooler.
It's housed in what used to be the airbox location, it even retains the OE bracketing and cushions.

Flowing from the top it's enters in a custom hand made formed aluminum manifold/diffuser it's oval and designed to spread airflow equally. (optional item)
Bench tested for flow through the core it ensures that all cooling channels are fed equally and that thermal efficiency is maximized.

Core's are premium quality core's made in Sweden by Setrab as used by premier factory racing teams the also supply to OE's for high performance coolers.
Again air is diffused there are cone shaped ends on the cooling channels entering the cores this makes for a more steady high flowing core.
This makes the core a big air diffuser thus making it more efficient, now the air flows trough the end tank in to the throttle body.

To make packaging as factory like as possible the coolant reservoir and fill location is integrated in the actual inter cooler.
Designed to be the highest point in the inter cooler system it also eliminates the need for any auxiliary tanks.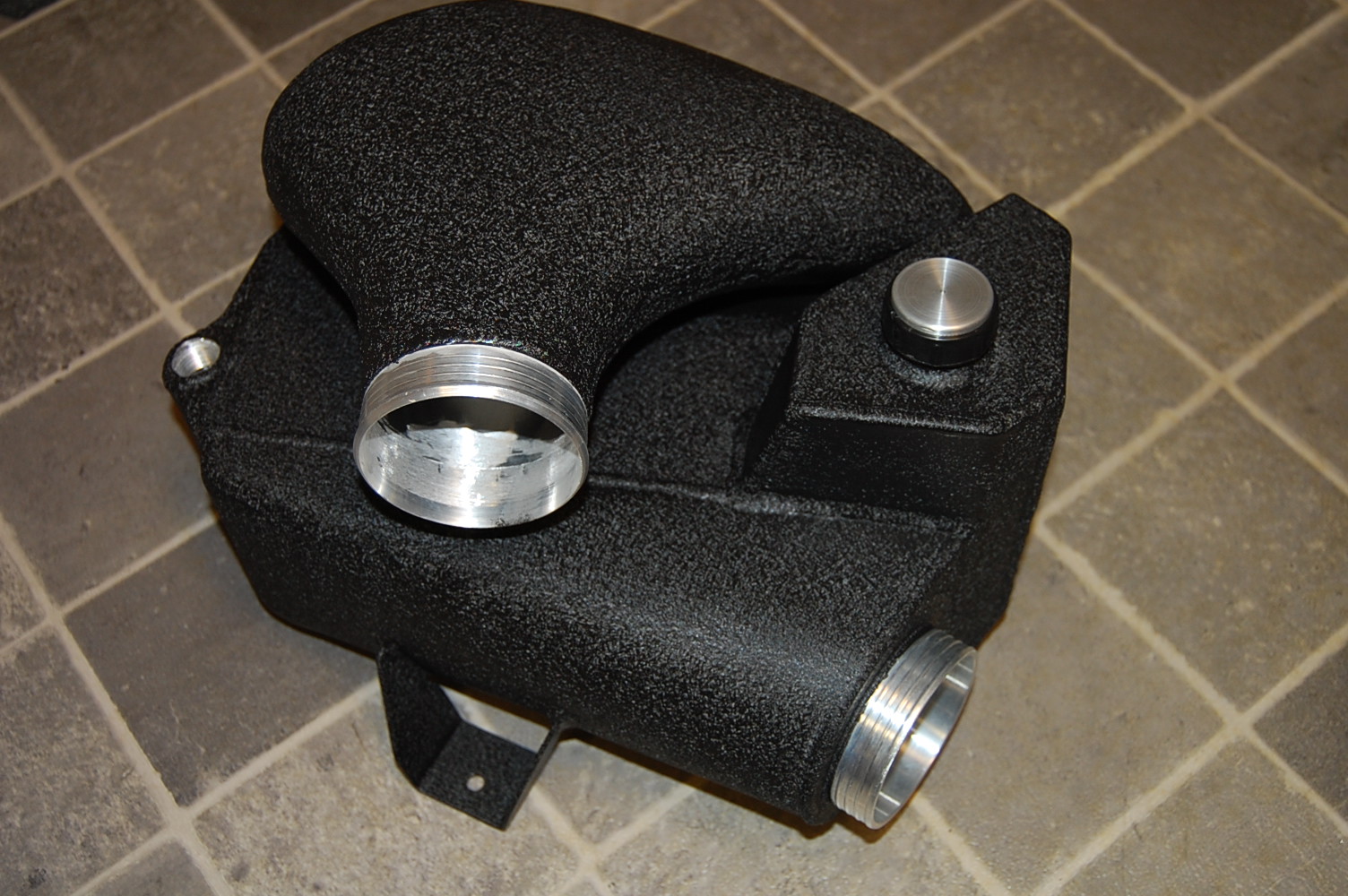 Water cooling
How is the water of the intercooler cooled?
In a method directly learned from factory Toyota WRC cars, maximum efficiency is created by a large cooler that has ram cooling.
That's why a custom aluminum water cooler is placed in front of the radiator it's core is 1/3 inch thick a neatly sits inside the factory ducting towards the radiator.

It's cooling fin's don't negatively impact the airflow towards the radiator due to there spacing and the thickness of the core.
Now this makes for a large cooling system the hose follow the routing the engine's cooling lines do, advantages of this are:
- Reduced reservoir tank volume required.
- Improved thermal conductivity. (there is plenty of cold water)
- Cooling performance increases with speed. (and thus RPM and stress)
- Distribution of weight equally across the chassis. (traditionally with a turbo NSX your only making the rear axle heavier)

IAT is near atmospheric in temperature

Turbine to engine compression
This is a method we our self's and amw have always advocated, high compression = high efficiency = more flow.
The setup is design to proactively use the 10.5 and higher compression the NSX engine is designed for.

A factory turbo Civic Type-R runs 10.8 comp ,the 2017 NSX runs 10.0 compression from the factory.

If you where to reduce the compression you are drastically reducing the volumetric efficiency and exhaust gas flow.
A very antiquated 80's method, factory race engines and modern turbo equipped cars all run higher compressions.
Further more the cylinder-heads are not designed for this.

By properly cooling and insuring tune and spark match issues of detonation can be cured.
Since you're volumetric efficiency is up your using less boost, it's all about improving the refinement.

Dyno run's

A = stock engine (C30A)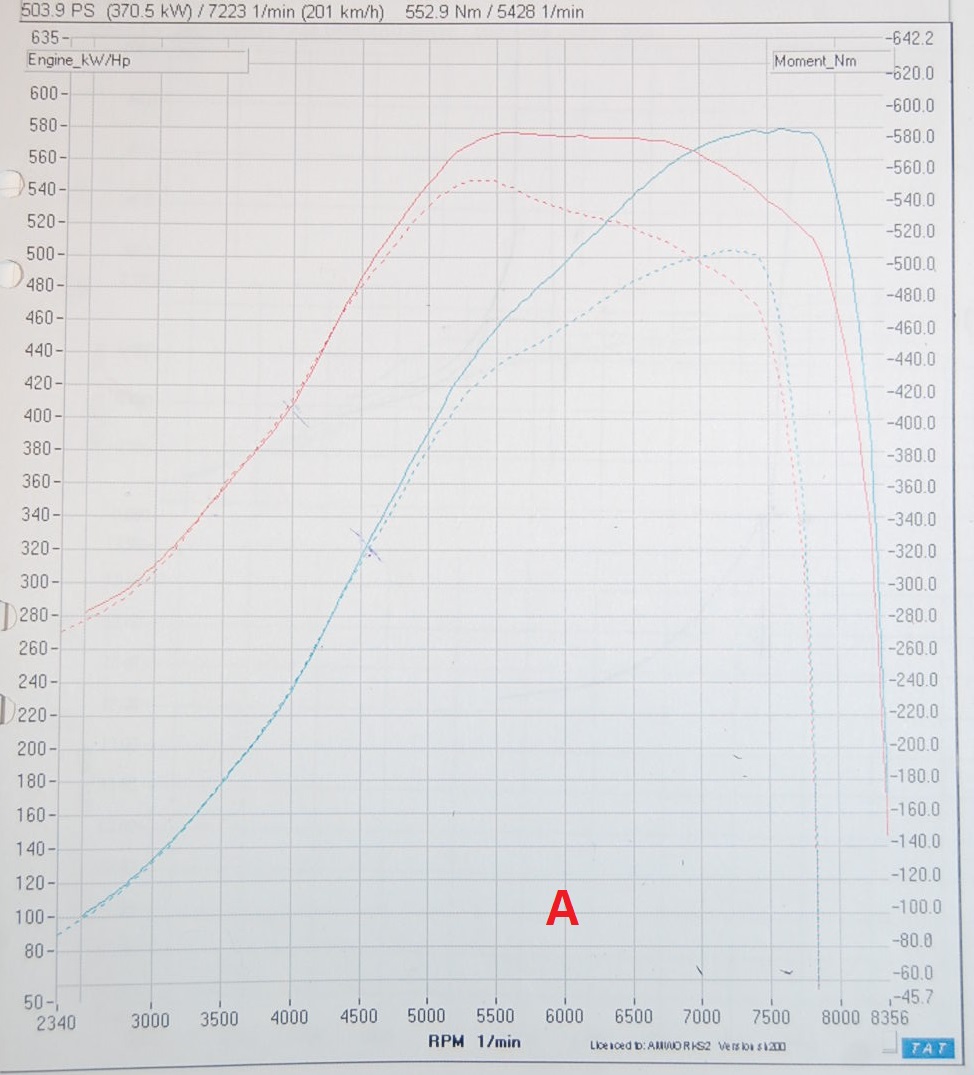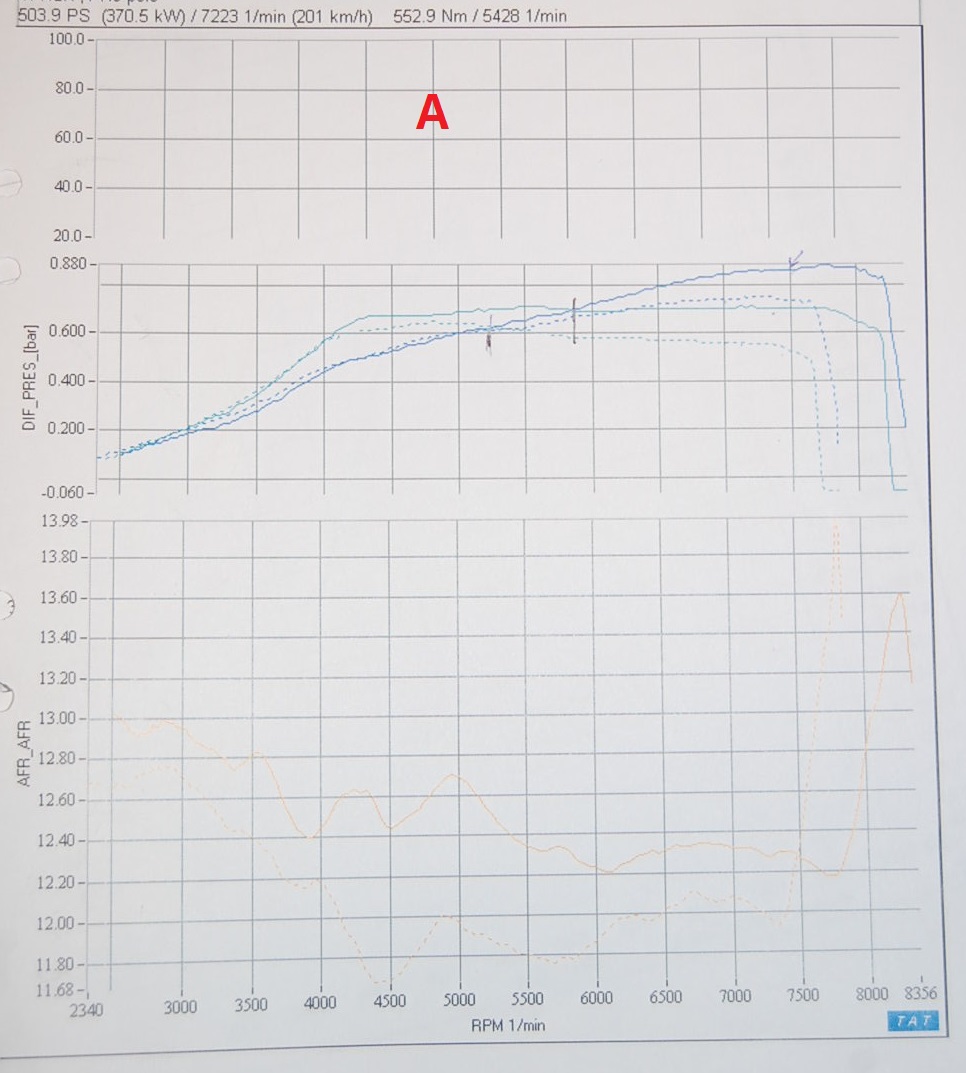 B = Build turbo C30A running 11 comp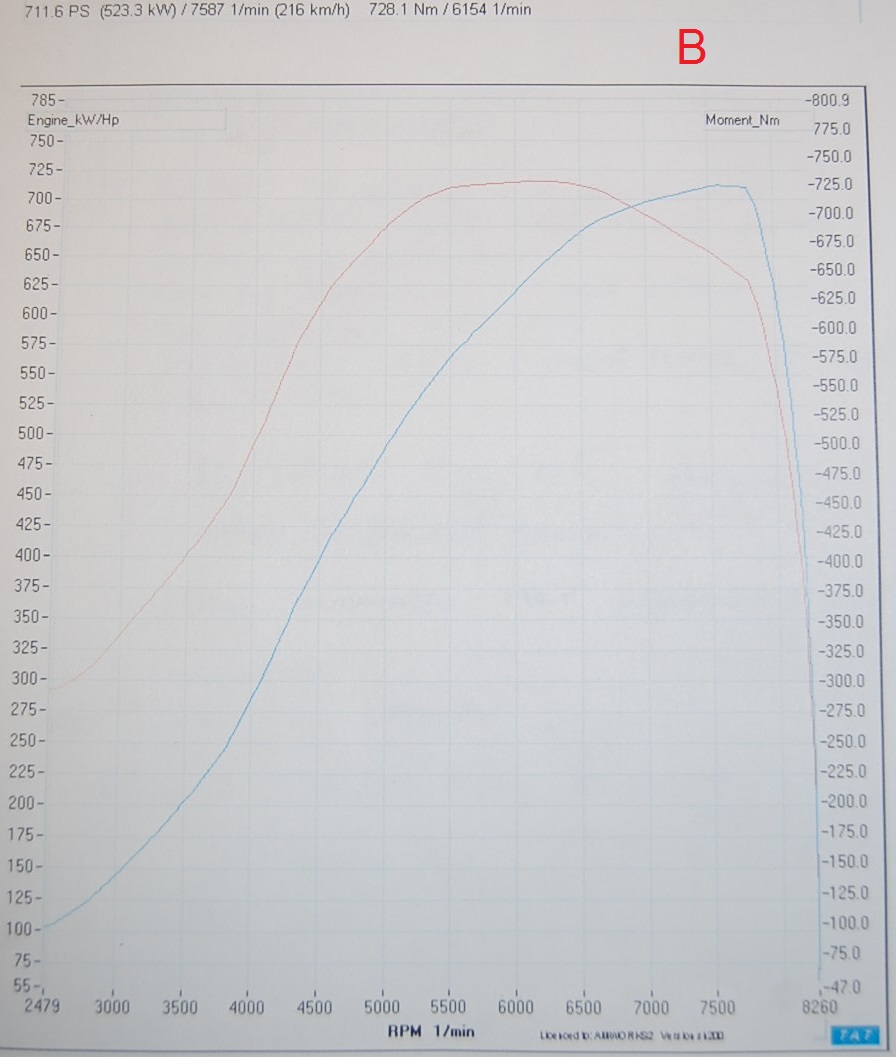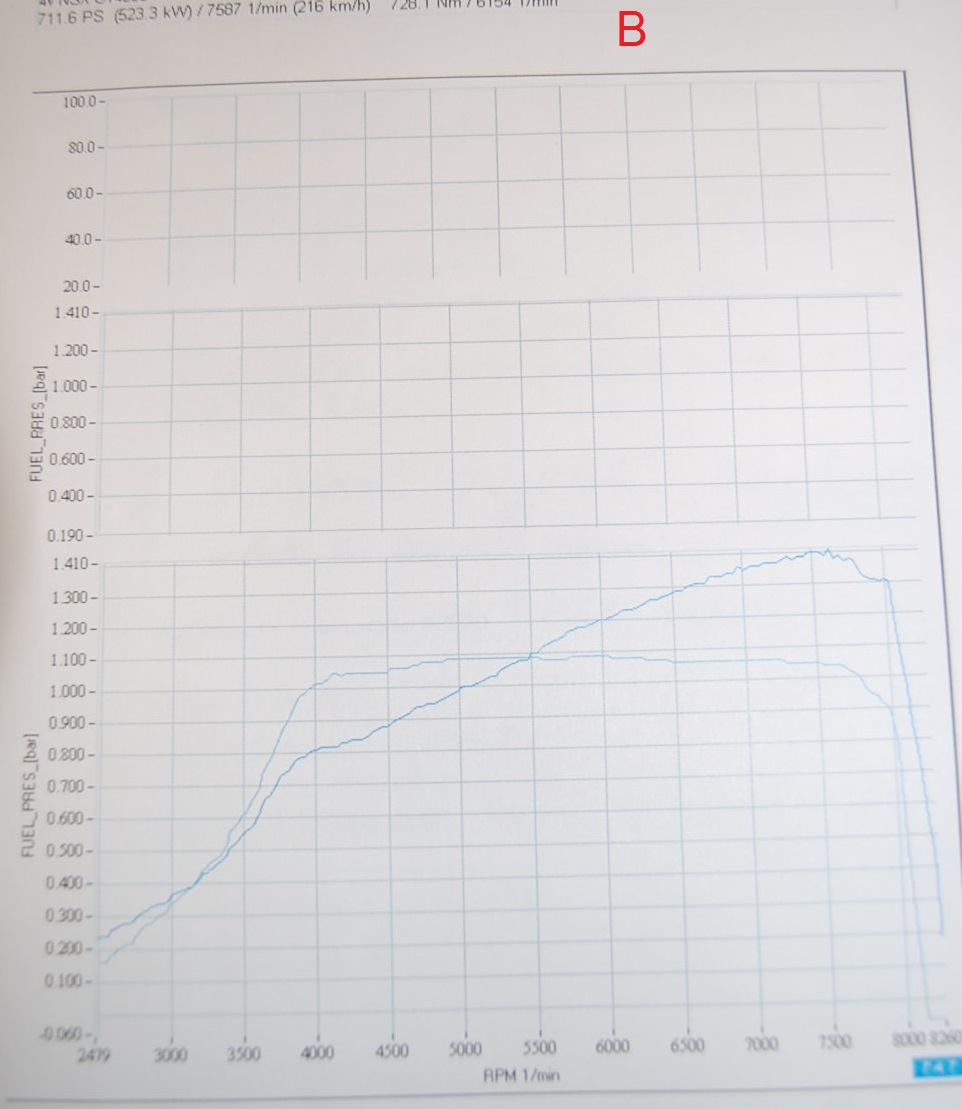 Staging and tuning
As many of you know we have a very specific method of putting a customers requirements first and packing around that instead a out of the box compromise as if it's a dime in a dozen Mustang.
Hand build supercar, enthusiast owner with unique requirements for his NSX this requires proper customer service and attention to details.

Price above is for the full kit minus fuelling and ECU package, we have quite a few options from a OEM derived Denso supplied OE fuel system capable of running a stock NSX engine at 400hp.
To customized setups for 800 HP race cars, same is true for ECU tuning we offer basic entry level systems that improve upon what the stock Honda computer does to more advanced state of the art matching modern supercars.

On a standard NSX we recommend no more than roughly 200 HP increase, this is the safe limit for the standard pistons.

Contact us for more details we'll design a package that fits to you and your NSX make it a full turnkey project.
With any necessary modifications and maintenance items so that you and your mechanic can start the build and complete it in one go.

Optionals
- Intake, We're developing currently a highly advanced modular turbocharger intake manifold to improve the efficiently of the engine.
- Intercooler inlet, instead of a round intake tubing a moulded oval diffusing intake collector (as shown in the black intercooler)
- Black powder coating, For that full stealth look.
- Uprated ignition for improved spark at higher boost
- Revised timing control for high boost fuel & ignition timingAS